We believe in developing a sense of community to foster creativity and joy in our families and students.
Imagine offers several supplementary group classes to complement your individual study. Read more about the private lesson and group class opportunities below and feel free to come try one!
Music Play Early Childhood Class
Music Play provides an opportunity for children to be immersed in a rich music environment. They will interact with music through chanting and singing in a wide variety of styles, along with age-appropriate movement.
Classes will include a variety of tonal and rhythm patterns that will be adjusted based on age and readiness. Children will also have some opportunity to explore simple percussion instruments.
Class time: Thursdays 5:30-6:15pm
Two Fall Sessions, 6 weeks each:
1. August 31 – October 19 (No Oct. 5)
2. November 2 – December 14 (No Nov. 23)
$120 per student for each 6-week session
$216 for both sessions
Multiple children in a family receive a 5% sibling discount.
The Imagine Piano Process
Intro to suzuki Piano Classes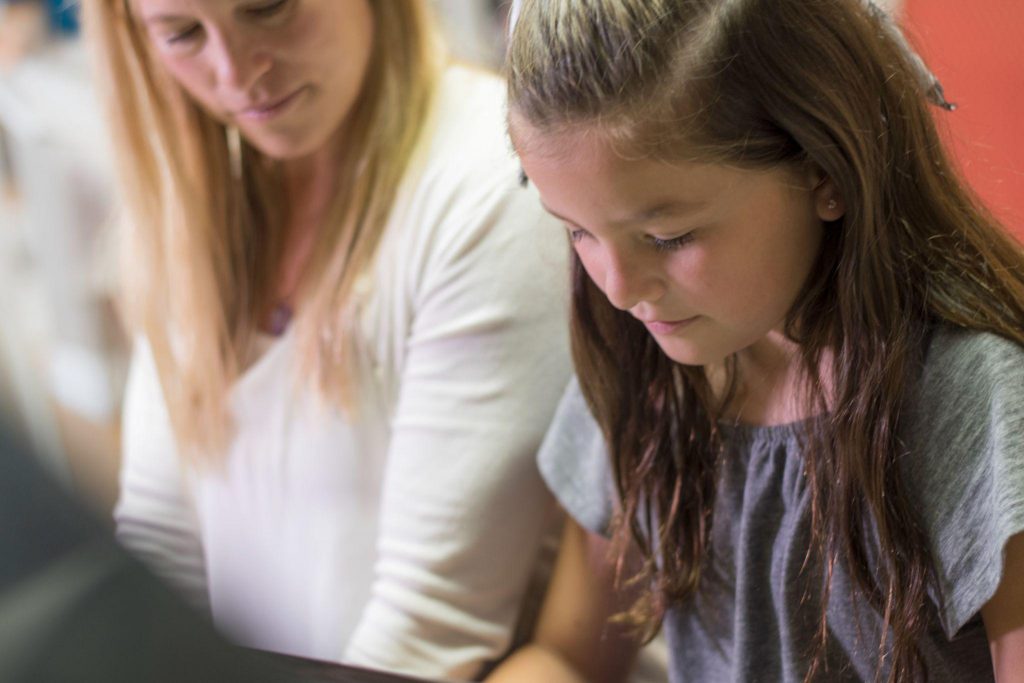 Fall Session 2023:
September 12-December 5
See below for class times and registration information.
These classes are for parents and their young children wanting to build a strong foundation in piano. The purpose of this class is twofold: to prepare both parents and students for private lessons. Students will be taught the basics of the piano keyboard, note and rhythm reading, music terms, rote songs, and beginning Suzuki Piano technique!
The class setting is fun and motivating, contributing to a positive first experience with the piano. Parents are encouraged to attend in order to learn along with and to aid their child during the class. Several Parent Meetings are included, in which parents can ask questions, discuss Dr. Shinichi Suzuki's book Nurtured by Love, and understand what their child is learning in class.
Details for Fall Session:
Appropriate for ages 5-7:
Class Package Includes:
12 Weekly Group Classes

2 Private Suzuki Piano Lessons
Parent Support
Total Value: Over $600!
Class Fees:
$350 plus books (see Books and Materials)
5% sibling discount per student
$50 Deposit required to hold your spot (will be charged by studio after registration)
Payment plans available – total tuition due by October 10th.
Email admin@imaginemusicandarts.com
Meeting Times:
Tuesdays at 5:00-5:45 with Miss Jessica

Tuesdays at 6:00-6:45 with Mr. Robby
Class Size:
Classes are limited to 6 students to allow students to receive enough attention.
Books and Materials:
Purchase on your own or buy a package from us ($40) – Click for links to each.
In addition, you will want the Suzuki CD or tracks for listening. Available here.
REGISTER for Intro to Suzuki Piano Classes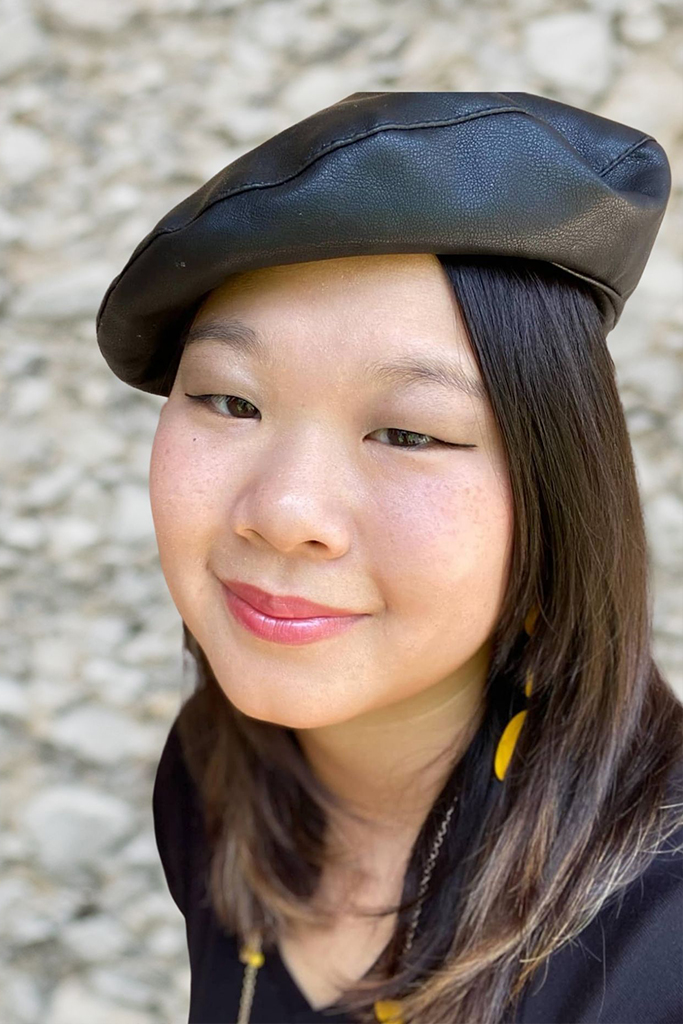 Jessica Witt
Jessica Witt fell in love with the piano at the age of four, knowing just a few years later that she wanted to become a teacher. She was able to achieve this goal in 2014 and has worked since then with both children and adults guiding them in discovering their own unique styles of learning. Recently, she has become the holder of a Collegiate Music Diploma from the International Program of The National Guild of Piano Teachers; she also plans to further her studies with the Suzuki Association. For Jessica, music is a beautiful language and her goal is to divulge its secrets to whomever is willing to listen and learn.
Robby Ray
Robby first began piano lessons at the age of 10. His preference in music ranges from standard classics to contemporary and Broadway tunes. Robby possesses a Bachelor of Arts in Music from UCO, and has interest in obtaining a master's. Robby has been teaching for several years, and enjoys seeing students develop musically. 
These classes are for students who are new to piano. If you have already completed one of these classes or have already studied piano, please visit our Imagine Piano Program Page.
We are improving our Imagine Piano Program! See below for updates for Fall 2023:
It is highly recommended that young students (ages 4-8) take
Intro to Piano
Class before entering our
Imagine
Piano Program.
The program includes weekly private lessons (30, 45, or 60 minutes), weekly group classes, and parent classes/workshops.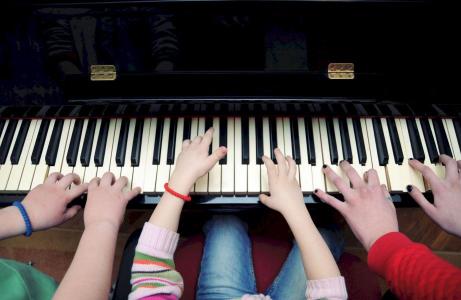 Students in the Imagine Piano Program are strongly encouraged to attend weekly Group Classes, which are included in tuition. Group Classes are an integral part of this method, helping foster a musical environment, reinforce concepts, and create community with peers. 
A parent is required to attend every lesson with their child, but is not required to attend group class unless the teacher feels there is a need to.
Students participate in Winter and Spring Recitals yearly, as well as have the opportunity to participate in monthly Student Showcases during the school year. 
Parent Classes If a parent registering their child beginning Fall 2021 has not already taken the Parent Class in which we read Nurtured by Love, this class will need to be completed before or at the same time the student is beginning lessons
Rates for spring Semester 2022:
New beginners
(weekly Parent Class)
Beginners usually take 30-minute lessons
2nd semester and on
(monthly parent class)
Summer Lesson pricing is on a package-basis and will be available as the summer approaches.
Discounts:
Sibling/Family Member: 5% off tuition of each additional student.
Multi-Instrument: 5% off tuition for each additional instrument.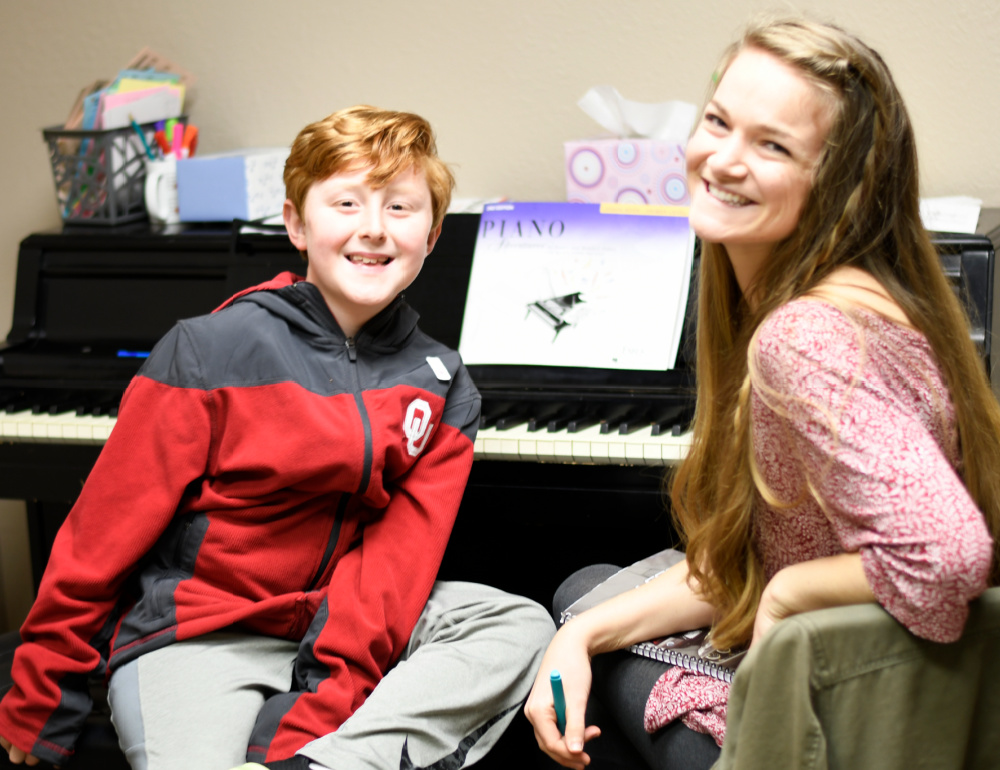 Our Traditional Piano Program offers private lessons using one of several traditional piano methods, such as Faber, Alfred Premier, or Frances Clark. Students will begin pre-reading and/or reading music right away and follow the path set forth by the chosen lesson book(s). The teacher will choose the method books based on the needs of the students, and may supplement with other materials as well.
It is suggested, but not required, that young students take either Intro to Piano (ages 4-6) or Beginning Piano (ages 6-8) before entering our Traditional Piano Program.
The program includes weekly private lessons (30, 45, or 60 minutes).
Students participate in Winter and Spring Recitals yearly, as well as have the opportunity to participate in monthly Student Showcases during the school year.
Parents are welcome to attend lessons with their child, but are not required to. This program is appropriate for adult students as well!
Rates for Fall Semester 2021-2022:*
Looking for Online Piano Classes?
In addition to piano, Imagine offers lessons in the following instruments:
*If you do not see the instrument listed that you are looking for, please contact us as we can often find a teacher.
Lessons are once-weekly and can be scheduled for 30, 45, or 60 minutes each.
Frequently Asked Questions
Sign up for a FREE trial lesson
Ready to meet one of our fabulous teachers? We offer all new students a trial lesson so they can get to know the teacher, ask questions, discuss schedules, and make sure they are comfortable before committing to lessons.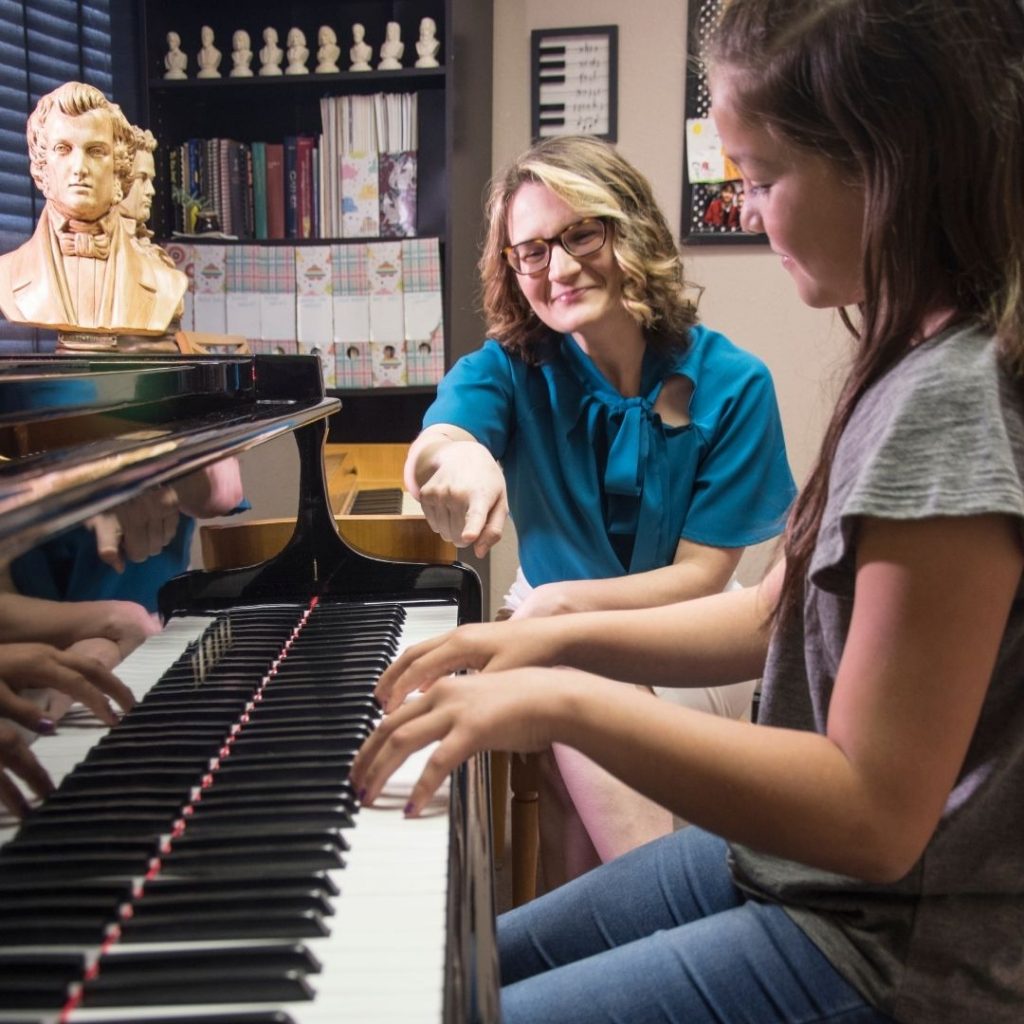 Group piano classes are a beneficial addition to private piano lessons because they fill in the gaps missing with one-on-one lessons. Music is, after all, a social activity!
Group classes foster the sense of community and supplement the musical environment that is so important to early development as a musician. Just like team sports, working with peers in a group is motivating…not to mention a little healthy competition never hurt anyone!
Piano group classes are offered by level, and will cover such topics as (but not limited to): music theory, music history, ensemble playing, sight-reading, functional musicianship, and more.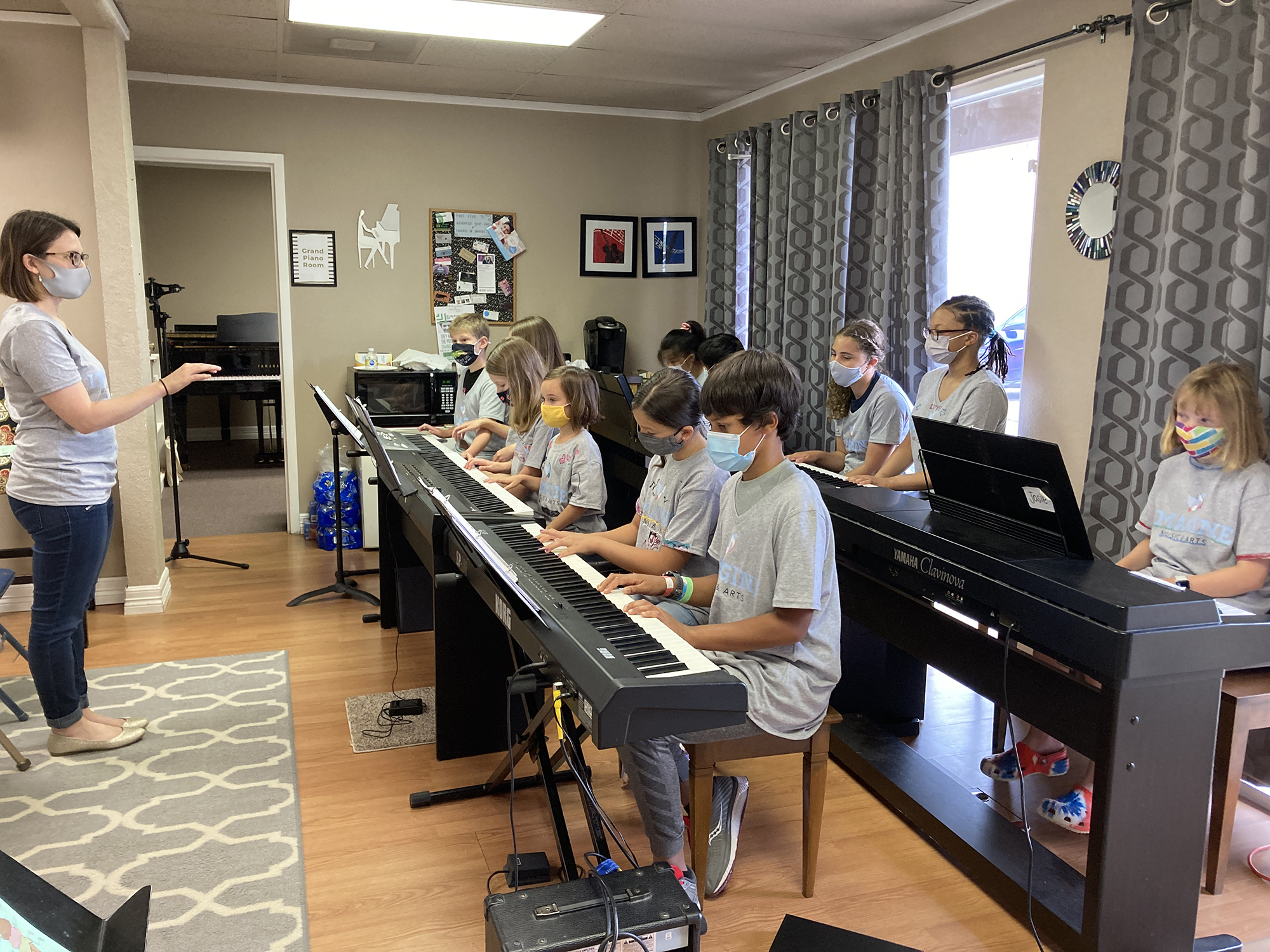 Check the calendar for the current schedule, and email admin@imaginemusicandarts.com to register.
Students in the Imagine Piano Program are required to take Group Classes.
Tuition: Included for students currently enrolled in private lessons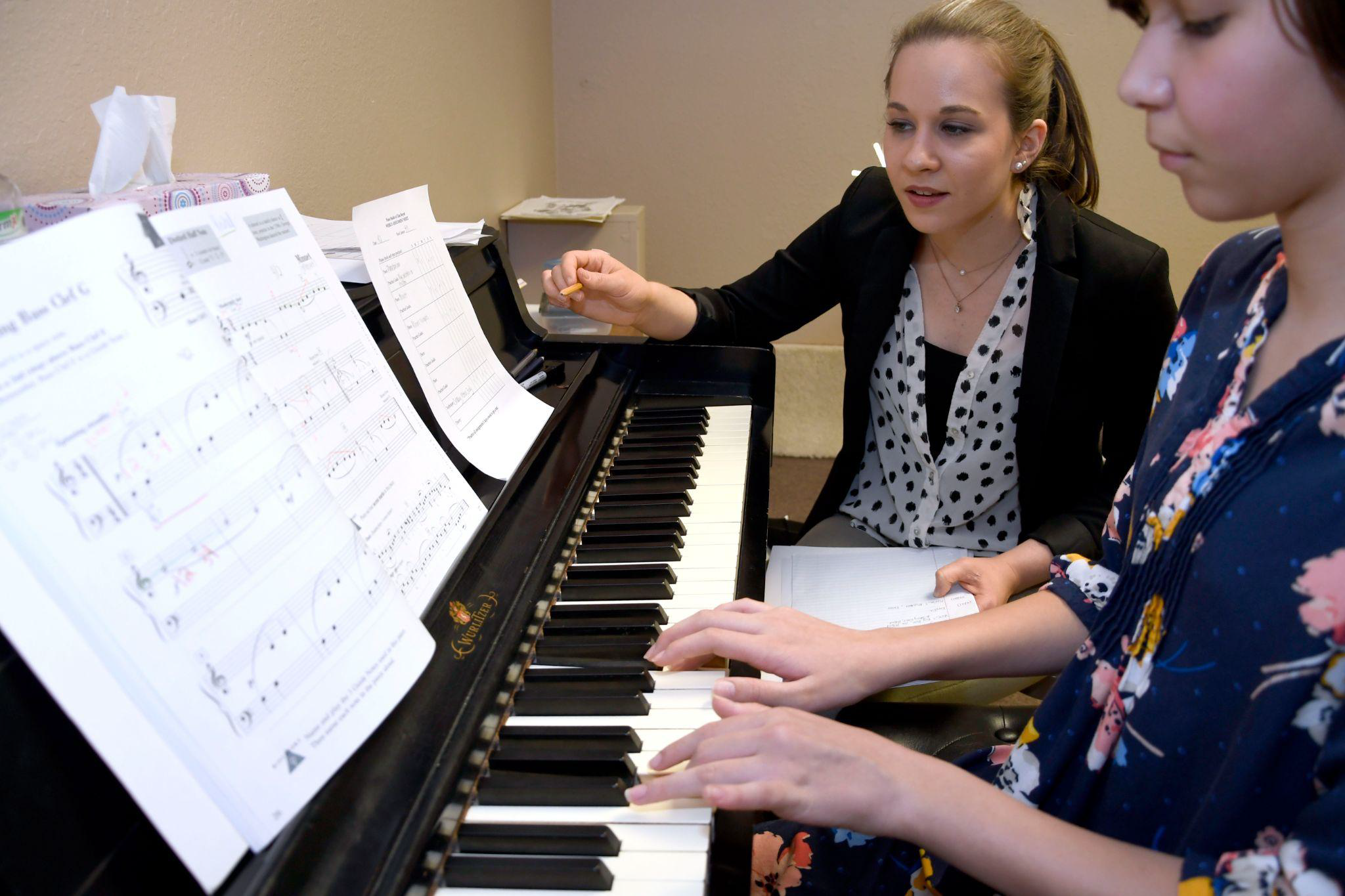 At Imagine, we believe in helping musicians to be well-rounded. It is important to understand the theory behind what you are playing, especially as you become more advanced with your instrument. We are happy to offer supplementary Music Theory Classes for all instruments.
These 45-minute weekly classes will be based on your current level, and will delve deeper into how music works, enhancing your music-playing experience. Topics include, but are not limited to: key signatures, scales, chords, harmonizing, transposing, ear-training, and composition.
Tuition: Included for students currently enrolled in private lessons
Instructor: Parker Kauffman
Parker Kauffman is a freelance horn player and teacher from Phoenix, Arizona. He holds degrees in music performance from Arizona State University (BM) and The University of Texas at Austin (MM). During his time at ASU, Kauffman performed regularly with the university ensembles and the Monsoon Wind Quintet. He played principal horn at the 2016 National Music Festival. While at UT Austin, Kauffman performed with the UT Symphony Orchestra and Wind Ensemble and was a founding member of the Mopac Brass Quintet. He teaches private lessons in studios and schools to students of all ages, including beginning lessons on other instruments in the brass family. Kauffman also composes and arranges music featuring the horn. Kauffman's primary teachers include Patrick Hughes and John Ericson. When he's not playing or writing music, Kauffman enjoys cooking, biking, and spending time in nature.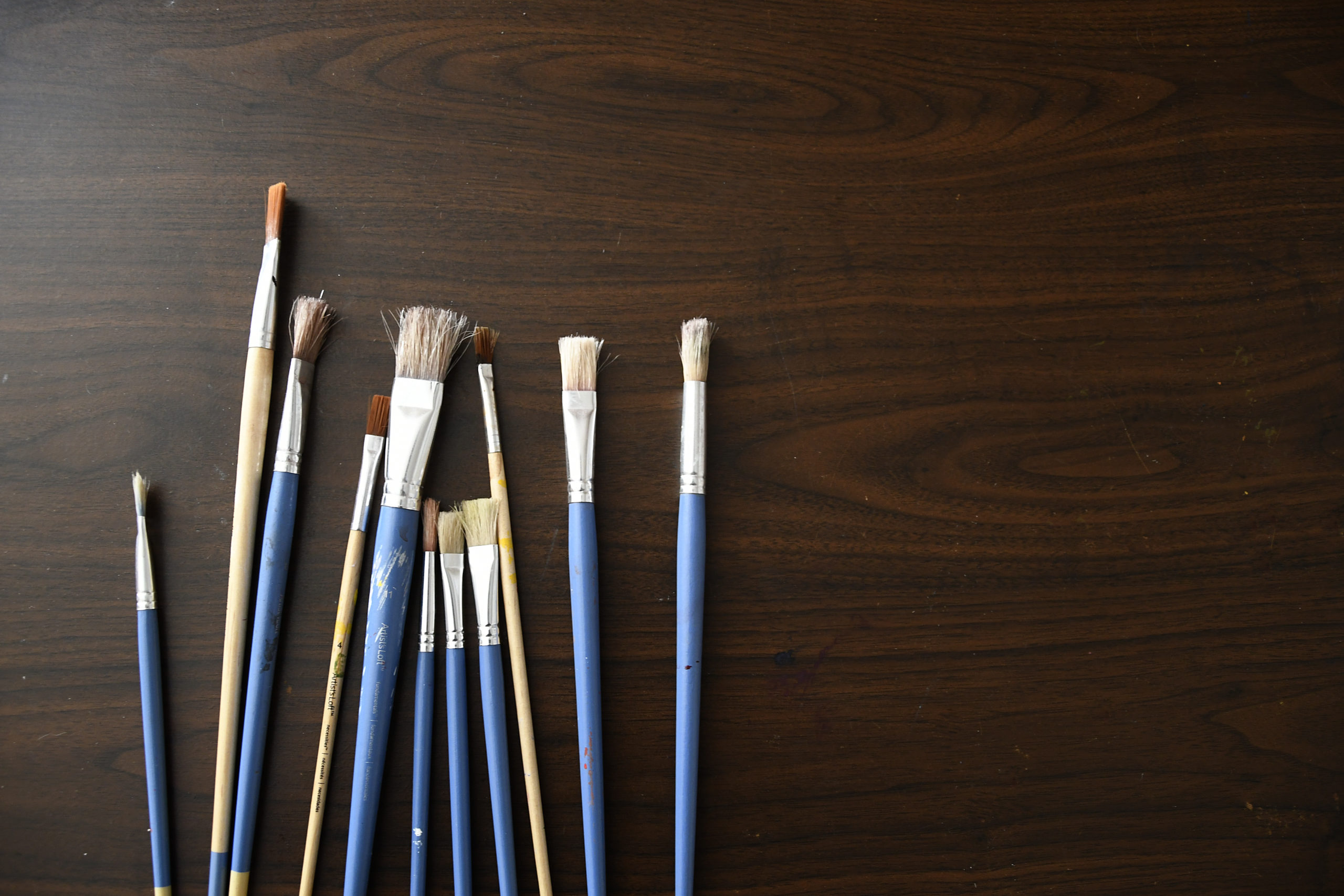 Visual art, in addition to music, can be a great way to express yourself when words cannot. It opens up doors to creativity in the mind and destroys limitations. Whether you want to join us just for group art classes or add them onto your music lessons, Imagine is pleased to offer introductory group art classes for the following age groups:
Wednesdays at 5:30pm
OPENINGS FOR FALL 2023!
Mondays at 5:30pm
OPENINGS FOR FALL 2023!
Cost: $60/month (payable by semester or monthly)
Class topics include:
Drawing skills, painting skills, weaving, sewing/fiber art, clay, elementary level art history, printmaking, basic animation.
Shae Hanke
Shae Hanke holds a degree in Secondary Language Arts Education from Bethel University. She considers herself a self-taught life long artist, and her arts specialties include, but are not limited to: drawing, painting, printmaking, jewelry making, and weaving. Miss Shae has taught art classes at Bryant Elementary in Moore for the past 8 years. She has been married to Matt for 5 years, and in her "spare time," she is an avid reader and artist, and she runs a shop on Etsy.
We believe in developing a sense of community to foster creativity and joy in our families and students.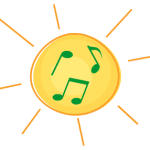 Summer Registration Opens April 14th
Deadline for Registration: EXTENDED TO JUNE 8TH!
Summer study is highly encouraged to preserve skills and knowledge learned during the semester. Teachers and students can be flexible with scheduling to allow for vacations, camps, etc. To encourage summer study, Imagine has three flexible packages.
There is no summer registration fee. Sibling/multi-instrument discounts only apply if taking a full summer. 
If you take 8 or 12 lessons, your $30/family Registration Fee will be waived for the Fall.
Option 1:
full summer: 12 lessons

(3 equal monthly payments due 8/10)*
(2 equal monthly payments due 7/10)*
*Or pay in advance on 6/10.
When signing up, do keep in mind that all summer lessons signed-up for must be completed in the Summer Semester. We will not issue credits or carry-overs for lessons not taken. It is advisable to check with your teacher first about their schedule to make sure you will be able to get in all your lessons. Taking from a substitute teacher at Imagine may be an option during the Summer Semester. Lessons can be taken at any time in the summer and do not need to be taken consecutively.
How to register for summer:
Simply click the button below!
Current students: Please communicate with your teacher to set up your summer lesson time and weeks you will come.
New Students: Contact your teacher, if you have been assigned one, to schedule your lesson time. If not, contact Emily at admin@imaginemusicandarts.com.
We are excited to offer the following Summer Camps for 2023!
Camps are a great way to immerse students in their field of study…or try something new!
Check out the information below and let us know if you have any questions!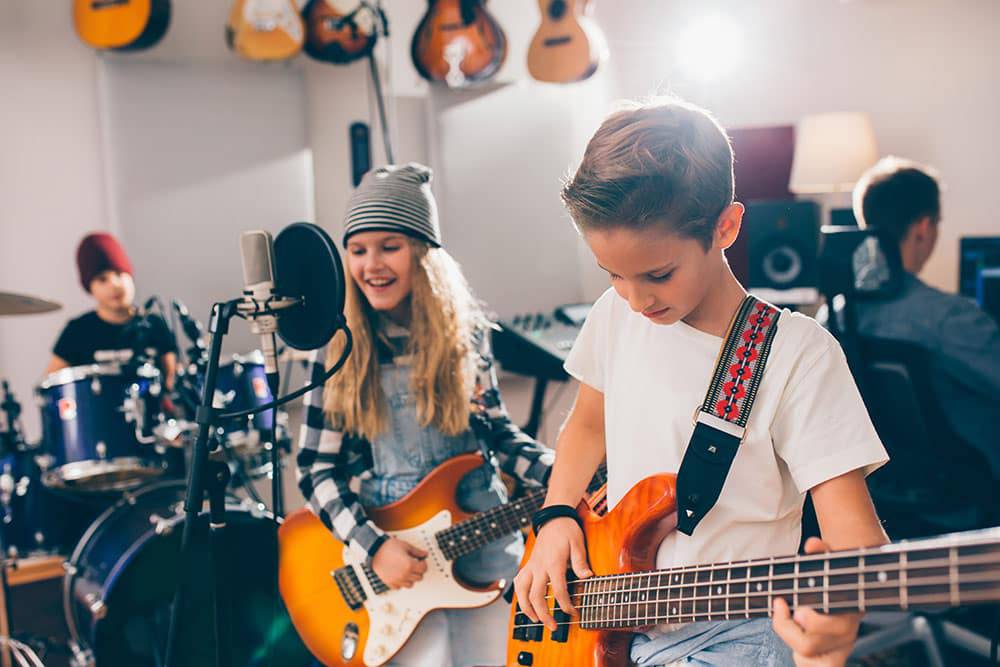 Blues Camp
July 10-14, 2023
Who: Young musicians ages 12-18
What: Come jam with us at this 5-day camp that's all about the blues! We will spend the week learning about blues music, practicing songs, and jamming together, culminating in a performance on Friday evening.
Times: 10:00am-2:00pm with a Friday evening performance
Where: Imagine Music and Arts
Teacher: Jacob Frost
Cost: $150 per student, 5% sibling discount; $50 deposit required to hold your spot.
Registration:

Current Imagine Students: Log in to your MMS account, navigate to July on the calendar, click on Blues Camp and click Register.
New or non-Imagine Students: Register with Imagine, choosing Blues Camp as your 'Instrument,' and then follow the instructions above.
Registration deadline: July 1, 2023
Music Camp
June 26-30, 2023
Who: Beginning musicians, Pre-K through 6th grade
What: Spend a week with us trying out new instruments in age-appropriate classes! Topics include: Intro to Piano (up to 4th grade), Instrument Petting Zoo, Music games, and more! 5th and 6th graders will get to try instruments to help them choose what to play in school orchestra or band.
Times: 

9am-11am: Rising Pre-K to 1st graders 
WAITLIST ONLY – 10am-12pm: Rising 2nd-4th graders
1pm-3pm: Rising 5th and 6th grades

Where: Imagine Music and Arts
Teacher: Director, Jennifer Walschap, and others
Cost: $100 per student, 5% sibling discount; $25 deposit required to hold your spot.
Registration:

Current Imagine Students: Log in to your MMS account, navigate to June on the calendar, click on Music Camp for appropriate age group and click Register.
New or non-Imagine Students: Register with Imagine, choosing Music Camp and the appropriate age group as your 'Instrument.' Then follow the instructions above.
Registration deadline: June 1, 202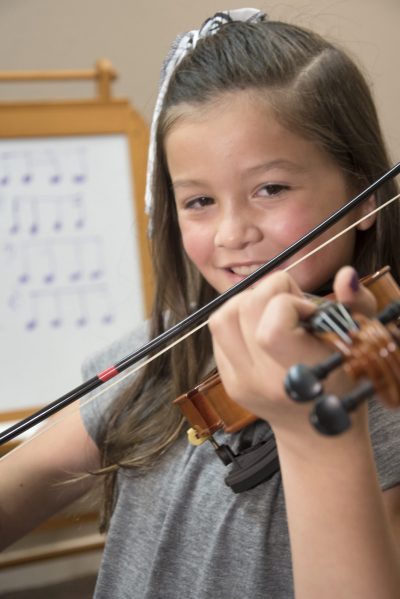 Drama Camp
Who: Grades 6-8th
What: For five whole days come live your dream to be a drama queen or king! We will be learning different aspects of the theater, from learning how to monologue to performing a musical piece to discovering about past theater geniuses! Then Friday join us for our very own presentation!
When: July 18th-22nd, 10am-2pm daily
Where: Imagine Music and Arts
Teacher: Jessica Witt
Cost: $150 per student, 5% sibling discount; $50 deposit required to hold your spot.
Registration:

Current Imagine Students: Log in to your MMS account, navigate to July on the calendar, click on Drama Camp and click Register.
New or non-Imagine Students: Register with Imagine and then follow the instructions above.
Registration deadline: July 1, 2022
Need help? Email admin@imaginemusicandarts.com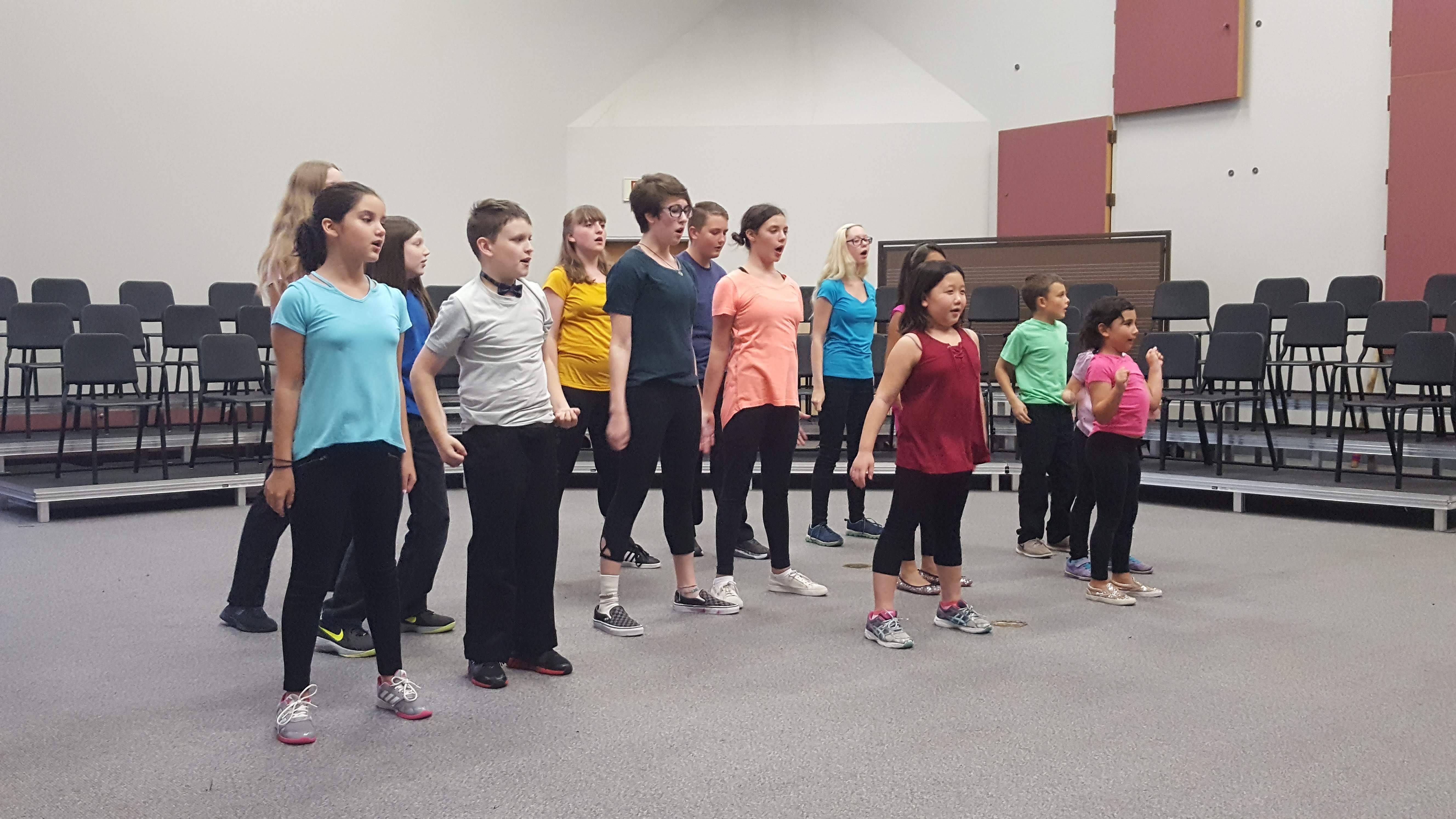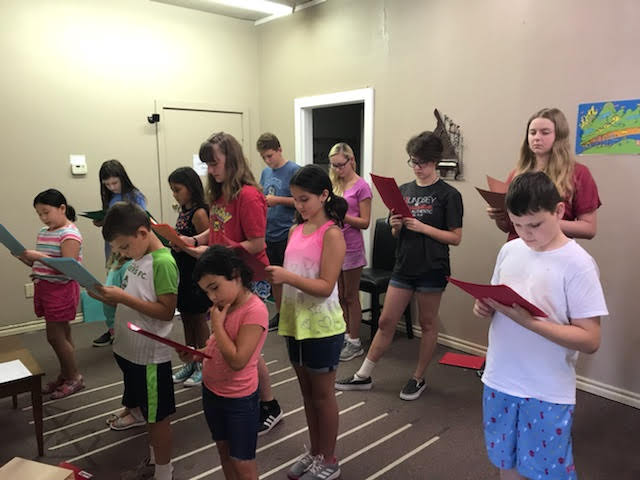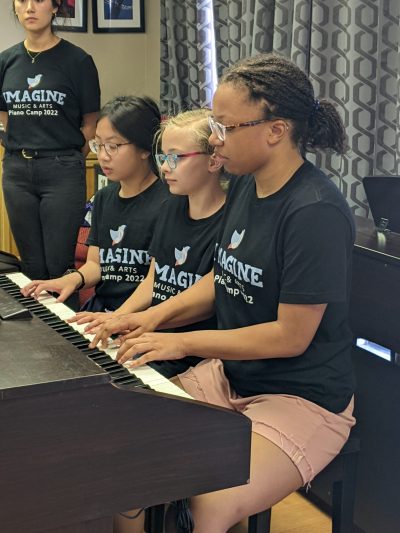 Piano Camp
June 5-9 and July 24-28, 2023
Who: Piano students of Imagine or elsewhere who have basic music-reading skills.
What: A fun 5-day camp full of piano duets, trios, and ensembles; music theory and history; art class; and fun! We will share all our hard work with a performance for family and friends on Friday!
When: Two Camps! June 5-9 and July 24-28
Where: Imagine Music and Arts
Teachers: Jennifer Walschap
Cost: $200 per student, 5% sibling discount; $50 deposit required to hold your spot.
Registration: 

Current Imagine Students: Log in to your MMS account, navigate to June or July on the calendar, click on Piano Camp and click Register.
New or non-Imagine Students: Register with Imagine, choosing Piano Camp as your 'Instrument,' and then follow the instructions above.

Registration deadline: 

Camp #1: May 1, 2023 

Camp #2: July 1, 2023
Songwriting Camp
Who: Aspiring songwriters ages 12-18 who have some experience singing or playing an instrument
What: A 5 day camp where students will practice writing their own music and workshopping their songs with others. We'll learn about music theory, lyric writing, and song structure, empowering students to craft their own songs that they will record on the last day of class.
When: June 20-24, 2022, 10am-2pm daily
Where: Imagine Music and Arts
Teacher: Jacob Frost
Cost: $150 per student, 5% sibling discount; $50 deposit required to hold your spot.
Registration: 

Current Imagine Students: Log in to your MMS account, navigate to June on the calendar, click on Songwriting Camp and click Register.
New or non-Imagine Students: Register with Imagine and then follow the instructions above.
No Registration Deadline
Need help? Email admin@imaginemusicandarts.com